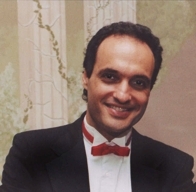 Leading the event celebration industry in Southern California for over 25 years, the Skye Michaels name is synonymous with high energy musical performances, elegance, and exquisite attention to detail. Skye Michaels' pursuit of excellence is reflected in every aspect of his orchestras: from the quality of his musicians—many of whom have been with him for more than 20 years—to the sophisticated musical arrangements that he has meticulously written, to the brilliant talent of the multi-lingual singers that front his orchestras. Unmatched quality is his trademark!
We are delighted to introduce the Skye Michaels Orchestras to you! Click the image below to begin the presentation.
For your upcoming event, contact us at
818-789-5226 or skye@skyemichaels.com
***The Skye Michaels Orchestras were recently featured in Celeb Staff Magazine in a piece titled "A Wedding of A Lifetime"***
Skye Michaels and his orchestras are the choice for the discerning client who desires attentive service, excellent performance, and exceptional live music entertainment. By providing careful event pre-planning, any special occasion is transformed into a flawless, dazzling, and unforgettable experience. That's why countless celebrities and leading organizations seek his services time and again (see Client List).
The Skye Michaels Orchestras repertoire includes the musical genres of Swing, Rock, Jazz, Soul, Motown, R&B, Latin, Top 40, Classical, and many more. If an event calls for an international flavor, the Orchestras specialize in authentic Israeli, Jewish Orthodox, Klezmer, Persian, Russian, Brazilian and other ethnic styles.
In addition, Skye Michaels Orchestras are renowned for their beautiful and uplifting music for ceremonies, with lush string sections serving as the perfect complement to their dance orchestras. This versatility is another Skye Michaels Orchestras trademark.
To suit different occasions, we offer any size ensemble of any instrumentation, from a solo musician to a 50-piece orchestra. We offer the musical style of your choice for the ceremony, cocktail hour, and reception. With a vast library of exclusive musical arrangements, our orchestras provide a unique and unparalleled sound that distinguishes us from all other "bands."
In addition to providing an unforgettable musical experience at your event, we offer detailed pre-event planning and coordination to ensure that all facets of the event are sequenced and performed flawlessly. We take the necessary time to work out every detail concerning the timeline, flow, and all other aspects of the event, including coordinating with the various vendors involved. If you have retained the services of a party planner-coordinator, we always work harmoniously to achieve an outstanding outcome. We pay particular attention to the quality of the sound systems used in order to ensure the highest sound fidelity, while always making certain that the volume is never too loud.
We also offer, for any type of event, exciting and diverse groups of dancers, specialty DJs, and many unique acts to enhance the overall entertainment. Pre-event rehearsals can also be arranged when needed.

At Skye Michaels Orchestras we recognize that your event is the most important evening of the year. Whether your need is spirited dance music or romantic elegance, Skye Michaels Orchestras are second to none.
We invite you to meet with us at our Beverly Hills offices, where you can view DVDs of our orchestras performing live at numerous Southern California venues. If you prefer, you can also schedule an appointment at our San Fernando Valley offices.